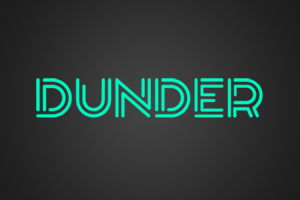 A gender neutral aesthetic and a streamlined interface are the most notable features of Dunder Casino. This forward-thinking brand, accessible to all, has been in circulation since its launch in 2016; the creation of a Swedish duo, it has all the hallmarks of international iGaming stylings. Despite coming from a smaller, independent owner, Dunder Casino has grown into a popular hub of gaming, sporting a surprising 1,600 different activities for its users. It would seem good looks isn't all this acclaimed site has to offer.
Managed and operated by MT SecureTrade Ltd, Dunder had a good foundation to build upon, with its operators heading the likes of BetSpin and InstaCasino. What is more, its dual licensing allows Dunder Casino to operate internationally, meaning that the list of restricted territories is kept to a minimum. For those looking to know further details about the licensing, the UK Gambling Commission and the Malta Gaming Authority regulate the services of Dunder Casino. For the most part, any sister sites of Dunder Casino, e.g. iGaming labels coming from the same operators, deliver the same entertainment value and range of services. However, while there's similarities, the aesthetics/design changes every time to offer a fresher experience, therefore making Dunder's sister sites ideal for those looking for familiarity but with some innovation.
Ikibu Casino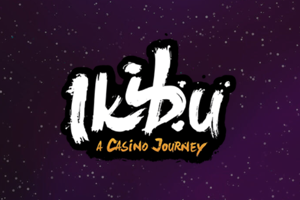 Lighting up our screens with just as an intriguing name, if not more so, we have Ikibu Casino. Also established in 2016, it comes from the same time period as Dunder and yet their aesthetics are greatly contrasted: Dunder feels uncluttered, simple, whereas Ikibu is just as uncluttered but with a more flavoursome look. It invokes a sense of novelty, with Ikibu Casino promising to take you on a journey to a new world (that's Ikibu, in case you're wondering).
Much like Dunder Casino, this label has a wide array of activities, including slot machines, live casino dealers, progressive jackpots, and table classics. These come from developers such as Microgaming, NetEnt, and NextGen Gaming. What is more, the games section enables users to easily favourite titles they love, therefore allowing them to return to them with ease later. Alongside the games, designed to help make the entertainment factor last longer, you have "Journey". Think of this as the site's loyalty/VIP scheme. This subsection is what makes Ikibu Casino unique to its siblings because it gives you a large map to progress through; as you go through the sectors of the map, more rewards become accessible. If you're looking for an immersive experience that goes beyond the pokies you play, this is what awaits you when you register with Ikibu Casino. A fine example of how this immersion takes place is by collecting the island seeds that are scattered throughout the site. When you collect these, you can exchange them at the Island Shop for iGaming goodies.
Rizk Casino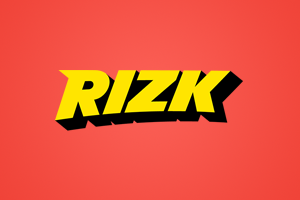 Wow, Dunder's sister sites aren't pulling any punches! Rizk Casino, much like Ikibu, takes a novelty themed approach in order to help entice its gamers in. However, rather than keeping this aesthetic in-keeping with its siblings' — slick design, lowkey design — Rizk bursts out of your device. Painted in rich red and bright yellow, this brand is pretty garish to look at. For some users, the superhero/comic book styling will detract from the fun rather than add to it, but for the most part we find the looks create a unique experience separate to Dunder Casino, Ikibu Casino, and others.
Much to our surprise, the heroic powers of this website also landed online in 2016, illustrating once again that the year was a busy one for MT SecureTrade Ltd. Although it may seem unusual for an operator to produce so many online casinos, when they look and feel so different to one another, they help fill different gaps in the market. For example, Rizk Casino is perfect for high energy, comic book fans, or those looking for a male dominated theme, whereas Dunder is a sophisticated, neutral playing ground. What also makes Rizk standout is that it has a Sportsbook section too, thus allowing users to move between sports betting and one armed bandits.
Consequently, the promotions of the site are a lot more varied than its siblings, simply because Rizk Casino caters to a wider audience. This means you can bet £20 on sports and get £10 in risk free betting chips, as well as take out the welcome deal 100% deposit bonus for a £10 or over transfer.
Guts Casino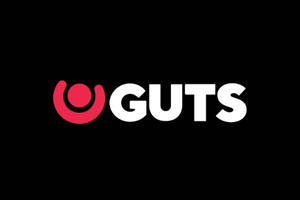 Despite the name, Guts Casino isn't as gutsy as you might be expecting. Decorated in a crisp white palette, this online casino is a contemporary take on what iGaming should look like, and yet it was launched back in 2013! Being six years old clearly hasn't affected how well received this dual licensed site is, as it's continued to grow over the years, developing into an avid sportsbook as well as casino. Think of this as a more neutral, sleek alternative to its sister site, Rizk. Alongside sports betting odds and the classic games of Microgaming, Quickspin, and ELK Studios, Guts Casino also offers live casino titles for those looking for a more interactive experience.
As for how the site fares when we take a closer look at its support services, Guts Casino has an efficient means of dealing with issues both professionally and in a friendly manner. Not only can users email the support team, but they can also open a live chat with a member at any time during the day; support services at Guts Casino are available 24/7. What is more, should you need assistance for a smaller matter, there's an extensive FAQs section to help with such queries. A lot of the information given is casino based, simply because that's what first helped start the Guts Casino brand. However, there's also a decent set of sports betting FAQs to work through should you need help there also.
Casino Gods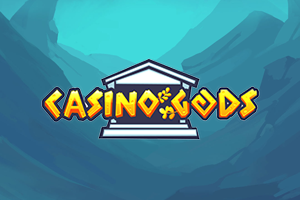 Unlike previous sister sites we've discussed thus far, Casino Gods is brand new for 2019, making it one of the youngest Duner Casino siblings to date. Furthermore, it's one of the most themed sites of the collection, sporting a prominent mythology aesthetic that reminds us of the illustrations of Disney's Hercules. Love it or hate it, Casino Gods is an eye catching iGaming label, even when compared to other novelty themed sites of its generation. This makes it a great destination for those who want to playfully explore the iGaming community rather than taking a traditional, more purist approach. Despite this however, Casino Gods is still governed by the same regulations as other sites, sporting a dual license from the MGA and UKGC.
Due to its young age, this Dunder Casino sister site has fewer promotions than the others, with Casino Gods currently only offering four different bonuses. However, while the promo quantity is on the low side, the quality isn't — there's still a juicy 100% deposit bonus, free spins, and regular rewards to keep you busy. For saying this site is new, it doesn't feel it when you opt in for any one of its four bonuses. And best of all, bonuses unlock at just £10, therefore making them more accessible to users on tighter budgets. To keep the promotions unique, Casino Gods has each offer represented by a recognisable mythology figure, e.g. the welcome bonus is Zeus, while the 25% boost comes from Fortuna.
32Red Casino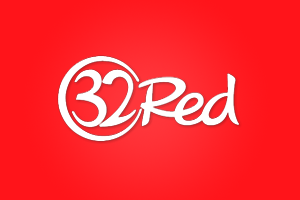 Last on our list is 32Red Casino, yet another example of how sister sites of Dunder Casino manage to maintain such different atmospheres for players. Out of all the websites we've discussed so far, 32Red Casino is the one that sticks out the most, simply because it doesn't look like your typical online casino. Its structured layout, minimal colour palette, and even its logo, all help this site feel more akin to a business brand than an iGaming one, and yet it's still become a hotspot for online gamblers.
What is more, while it looks distinctively different from the above labels, 32Red Casino is still governed by the same regulations and offers most of the same services, thus making it a familiar experience. Launched in 2002, this site is by far the oldest of the group, yet all its services play as efficiently as its younger siblings — there's live chat support, 24 hour assistance, multiple banking options, and so on. 32Red Casino may be the eldest, but it plays just as hard as the others. Also worthy of note, is how 32Red Casino not only links to its sportsbook offering but its bingo and poker as well, thus giving you a lot of mileage for your membership. If you want a brand that "does it all", this is definitely it.
About Dunder Casino's Sister Sites
What can we take away from this guide? Firstly, that the Dunder Casino family is a large, all encompassing one and, secondly, that not all the same services are guaranteed. Of course, as with any collection of sister sites, there will always be similar offerings, e.g. the developers provided, what types of games are available, licensing, etc. However, in the case of the above, we also have contrasting services, e.g. some of the sites offer sports betting while others don't. Consequently, if you want a familiar setup but with some variation, these casinos are some of the best to join.