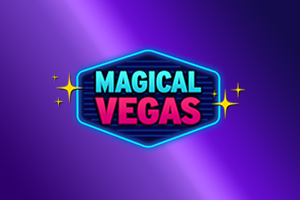 Magic. It sounds so fantastical, so unbelievable, and yet according to the pages of Magical Vegas Casino, that's exactly what you get once you join. Best of all, thanks to how inclusive magic is, anyone, of any gender, can play within the sanctuary of this iGaming hub! Established back in 2012, this is one of the owners older products still on the market, however that doesn't make it any less safe or efficient. Take for example its licensing: Magical Vegas Casino owns a dual license from the UK Gambling Commission and the Alderney Gambling Control Commission.
For those unfamiliar with what impact this has on the site, most prominently, it's who can play and who can't. In short, this label is very much focused on the UK iGaming market. Those able to register will find themselves connected to different gambling activities, such as live dealers, one armed bandits, roulette, and scratchcards. As well as being able to make their money go even further with the help of regular promotions — there's a lot going on here. Nonetheless, should you not find Magical Vegas Casino to your tastes, it might be wise to explore what its sister sites offer, as they tend to incorporate all the same features but in a different looking package.
Regal Wins
To show you just how varied Magical Vegas Casino sister sites can be, we bring to you the last casino on our list: Regal Wins. Released in 2017, this younger brand is in stark contrast to its siblings. The closest one that resembles it is Lucky VIP, and even then, we'd argue that Regal Wins is by far the most slick looking of the two. Sporting a plain, no nonsense interface, users don't have to worry about being bombarded with novelty themed imagery and gimmicks. Instead, you'll see a black interface decorated with pops of colour, thus adding a sense of class to the aesthetic.
Just as before, there's dual licensing from the UKGC and AGCC, as well as the same range of promos as we've seen before. So what makes Regal Wins worth joining? Quite simply, it's the overall package of the brand — think of this as a combination of everything that makes its owners so prominent within the community. Arguably, Regal Wins is the most logical option for those that want the most up to date experience of that. Furthermore, if you desire customer focus, Regal Wins is victorious there too as it offers customer support 24 hours a day, seven days a week. Not only is this done via the expected channels of live chat and email, but this label also delivers telephone support as well.
Spin and Win Casino
If you thought Magical Vegas Casino was the eldest of the Daub family, you'd be wrong, as there's Spin and Win Casino to consider also. Launched in 2011, it's an old timer by iGaming standards, with an aesthetic that reflects its senior years. And yet, for saying it's eight years old, it still operates as a high level, with users able to easily navigate and what what they're looking for with ease. What is more, all of the services offered are delivered under the regulations of the AGCC and the UKGC, thus giving peace of mind.
In spite of this however, it makes sense that those of you interested in the latest trends will be concerned about services, such as its banking capabilities. Luckily, we're happy to report that Spin and Win is as accessible as its siblings. Out of all payment methods, Spin and Win Casino champions credit/debit card payments above all else, e.g. VISA, Mastercard, etc. However, it also supports PayPal, and Paysafecard. This might not sound all that impressive, but then when you consider the age of the site, the fact that it delivers multiple banking options soon becomes more praise worthy. Also worthy of that praise is how low deposits tend to start, with the minimum amount, typically, being £10, thus making this a highly accessible brand.
Lucky VIP Casino
As soon as you visit Lucky VIP Casino, you can see the difference between itself and Magical Vegas Casino. Lucky VIP feels more modern and sports a much more streamlined, contemporary finish; it has a sophisticated edge that its older sister doesn't, yet there's still the quirk of the owners coming through. It's best to described this as the owners, Daub Alderney Limited Casinos being a little older and a little wiser.
There's much we could discuss about this site, such as the developers it users — Eyecon, Microgaming, and so on — but we'd rather focus on its VIP exclusivity. After all, that's what Lucky VIP Casino's name is built on, and so we need to make sure it delivers what it promises. There are two parts to this sites loyalty scheme: Lucky VIP points and the VIP Club. The points system is open to all members, so long as you wager real cash you can earn rewards; just a £1 bet on the slots will earn you 3 points. As for the VIP Club that, as you'd imagine, is a more enigmatic experience. To become part of the elite, you need to prove yourself to the team — play hard, bet hard — only once you've done this will you receive an invite. It may seem unfair, but a lot of casinos operate in this way, so if you want the status you need to work at achieving it.
About Magical Vegas Casino Sister Sites
When all is said and done, what is markedly different about these Daub iGaming sites is the way they look. Although this means that you don't get as diverse experience as you can from other brands, this isn't to say that Magical Vegas Casino, and its siblings, should be disregarded. In fact, we say it makes the family stronger because of how adaptable these casinos are — you can pick and choose what best suits your interests without any loss of quality or service. In our eyes, this makes registering with any one of the aforementioned brands a win-win.